Managing Director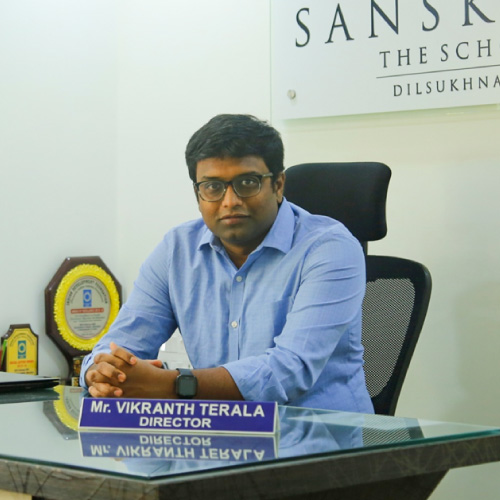 Mr. Vikranth Terala
M.B.A.
Mr. Vikranth Terala a graduate in MBA from Missouri University is a qualified professional. His vision is to provide a platform to the kids to enhance their secular, social and ethical needs and to contribute a driving force for the establishment of the School. His vast exposure to the world of education initiates the school to adapt new and unconventional methods of learning.
Executive Director
Mr. Prashanth Terala
M.B.A.
An MBA graduate from Eastern Michigan University, Mr Prashanth Terala is a qualified professional in his own right. His versatility promotes the continuous growth of the administration and academic aspects of the school.
Principal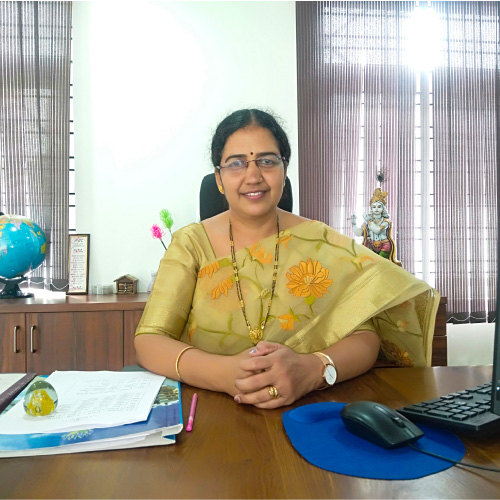 Mrs. S. Swati
M.A., M.Ed
Mrs. S. Swati is the cornerstone of our institution. Her willingness to adapt the changing trends in the field of education triggers the all round development of teachers and students. Her vast experience of 16 years and optimism enables to encounter various challenges in the educational field with grit and vigor.
Our motto is to bring out the best in the child with ability and motivation. Sanskriti -The School strongly believes in "Attitude influences Success". We help the children to develop a positive attitude with the concept that "I know more Today, than I did Yesterday. I am preparing and I will SUCCEED".
Our Faculty
Aswani. V
Durga Lakshmi. K.V
Geetha Rani. J
Hemalatha. A
Kalyani. P
Lakshmi Rani. B
Laxmi Bai. K
Mamatha. Y
Mukta Agarwal
Naresh. E
Prasanna. A
Rashmi thakur
Rekha Raj Halder
Sai Sudha. B
Samba Shiva Prasad. G.V
Sangeetha Mogili
Saritha Thakur
Savitha. T
Shailaja. V
Shilpa Gangavati
Shilpa Goud. S
Shivani Mahananda Mella
Shobha Rani. G
Sri Durga. M
Sri Nitya. K
Swetha Yasa
Vani. J
Vijaya Lakshmi
Vineetha Mithalesh. B
Akshitha Goud. S
Sushmitha. M
Noorunnisa Begum
Vikranti D
Sangeetha. R
Savitha. R
Sharada Anand Kumar Gopi
Neeraja. T
Sunitha. K
Ramakrishna Reddy. T
Hymavathi. L
Sravanthi E
Jyotsna. M
Kishore. M
Vijay. G
Naveen. K
Meghana. B
Mounika. M
Anitha. P
Mahesh. Y